Building at the Intersections
Complex challenges require great thinkers to go beyond individual knowledge and seek out others who can approach the same questions from different perspectives. Interdisciplinary research has become recognized as the way forward for our world because of its capacity to effectively generate new and impactful solutions. 
Interdisciplinary research comes naturally to Lehigh, where boundaries between colleges are few. Yet to harness the full potential of team research, Lehigh needs the infrastructure to support its ambitious aspirations — spaces where faculty partners, eager to collaborate, aren't siloed by department or separated by distance. Places where state-of-the-art equipment is down the hall, not across campus. Places that are endlessly reconfigurable, with room to grow as new challenges arise. Places where people will collide and connect over the next big idea. 
These places will be found in the new Health, Science, and Technology (HST) building, a 190,000-square-foot facility that will create a home for Lehigh's new College of Health and dramatically increase Lehigh's capacity for interdisciplinary research.
---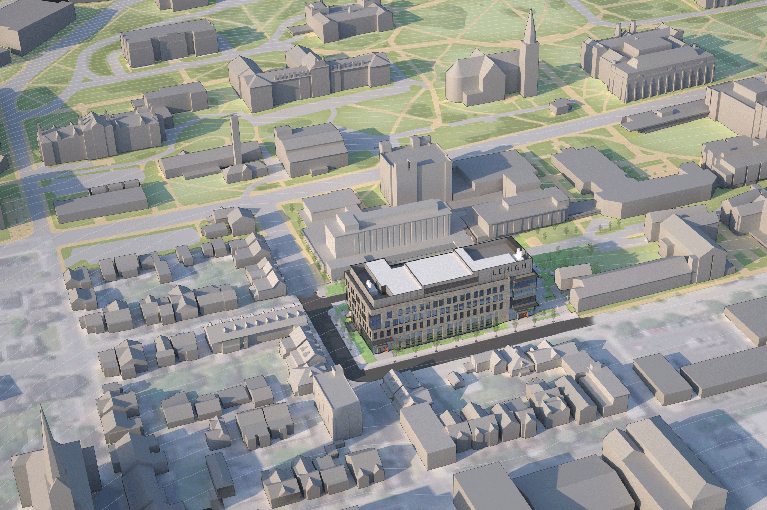 The Health, Science, and Technology building, to be located at the corner of Morton Street and Webster Street, will: 
Create a home for the new College of Health. The building will house the new College of Health, providing space for programs, research, faculty, and staff. This is critical to the success of the college, especially in the early years of its development. 
Expand and inspire interdisciplinary research. The building's new facilities and collaborative spaces will inspire interdisciplinary research and expand the university's overall capacity. This will enable Lehigh to pursue greater challenges, compete more successfully for funding, and advance efforts to become a top-ranked research university. 
Elevate the Lehigh learning experience. The facility will create more opportunities for education, exposing graduate and undergraduate students to research opportunities and high-impact learning experiences. 
Establish a new research neighborhood. Connected to Whitaker Lab by a bridge and in close proximity to Seeley Mudd, Sinclair, and Neville Labs, the building creates a hub of research activity. 
Create community connections. The flagship facility will provide space for the community to engage in health and wellness programs or participate in community-based research.

Interdisciplinary Research By Design
The Health, Science, and Technology building, which will be used to support an ever-evolving portfolio of programs and projects, will be like no other research facility at Lehigh University. 
Large, shared labs where teams of faculty and students from across disciplines work side by side 
Transparent walls that put research on display, inviting inquiry 
Faculty immersed in the action, with offices interspersed among student and team workspaces within each open-concept floor plan 
Staggered staircases that draw traffic up and through building floors, prompting unexpected meetings among colleagues and exposure to the ideas of others 
Suites where colleagues will gather around shared core equipment to compare notes and share expertise 
A forum for community gatherings, well-equipped with tech and media options, as well as a cafe and patio 
As the world around us changes, Health, Science, and Technology will be constantly adapting to take advantage of the latest opportunities. Interdisciplinary teams will rotate in and out of the facility, as new ideas are brought online and other projects sunset. Practically everything in the building will be mobile — able to be positioned to take on the next great challenge at a moment's notice. 
Just like Lehigh.

A Home for the College of Health
Within the revolutionary environment of the Health, Science, and Technology building, Lehigh's new College of Health will make its home. The college will equip students for careers and leadership in the fast-growing sector of population health and further meaningful research to create a healthier world. 
The new building will: 
Offer collaborative spaces and offices arranged around a Dean's Suite, creating a physical center for the college 
Integrate health college faculty and students with the array of HST's interdisciplinary researchers 
Include labs, incubator spaces for student projects, a data warehouse, and a data visualization lab — key to moving forward education and research in population health and Lehigh research as a whole 
HST creates an environment that will help attract and retain top faculty, especially those who share Lehigh's commitment to interdisciplinary research. This is important as the College of Health hires inaugural faculty in a competitive market. Ultimately, the quality of the faculty we recruit and their capacity to bring in research dollars will determine how far and fast the college develops.
---
Signatures in Steel
More than 4,400 members of the Lehigh community added their signatures in our first-ever virtual beam signing for the Health, Science & Technology (HST) Building in October 2020.
---
Data Science, Insights, and Impact 
Lehigh's new College of Health puts the focus on population health and health data analytics. Population health is committed to understanding the complexities of health and how factors — whether they are within our cells or within our society — interact to produce health outcomes. Healthcare organizations, government agencies, providers, patients, and communities are clamoring for scientists and leaders who are able to understand health trends and inform decision-making. Yet, there remains a shortage of researchers who understand how to use the vast amounts of data being collected in our tech-driven world. 
Lehigh has the strength to fill that gap. Our College of Health will prepare the next generation of innovative and diverse scientists and leaders in population health through innovative course work, distance learning, and experiential learning opportunities. It will also play an important role in analyzing data sets and driving proactive intervention to improve health for millions.
Population Health
Population health scientists leverage any number of interventions — from health innovation and technology to improved access to care, community health programs to health policy, among many others — to influence and improve overall health outcomes. These interventions can be implemented anywhere on the population health pyramid and can have substantial impact for individuals and entire populations.
Signature Spaces
The Health, Science, and Technology building will constantly welcome new teams of faculty and student researchers, as projects and opportunities arise. The dynamic environment, which includes plenty of room for future growth, will adapt and evolve as Lehigh's research capabilities and the College of Health further develop. The flexible building features offices, meeting rooms, and common workspaces, as well as a number of signature spaces that can be used across disciplines for a variety of purposes. 
Spaces may be named in recognition of donors who provide generous support.
Basement Level 
Core Data Visualization (Viz) Lab. This shared Viz Lab, comprised of two research labs and a research commons, allows researchers to access and analyze vast quantities of empirical data, then create infographics and other visual representations. Plus, virtual reality and augmented reality capabilities enable researchers to test diagnostic-related tools and forms of AI. An adjacent research commons provides communal work space where people from different disciplines can converge to share research, new ideas, and challenges. 
Lower Level 
Lobbies (2). Two prominent entrances on Morton Street welcome the community to HST's bustling labs and open work spaces, offering seating for casual interactions and stairwells to other floors. 
Research Labs. These groundbreaking, open-concept labs (on lower level and level 2) house wet, damp, and dry labs with no walls or partitions between — so collaboration can occur and research can interconnect from bench to bench, person to person, discipline to discipline. Corridor walls are glass, so passersby can observe the work being done inside. Spaces will be utilized by a broad range of researchers, from chemists to biologists to population health investigators, who will cycle in and out of the building. 
Community Health Space. The community health space serves as a flexible forum where local health organizations can partner with the College of Health. The space can host community health engagement programs or facilitate participatory research — its utility will be determined by meaningful partnerships with local health care and community organizations.
Level 1
College of Health Dean's Suite. The College of Health calls this space home. The suite houses the dean's office, a living room area, and administrative offices. Strategically situated near the College of Health data visualization lab and the data warehouse, it will be a focal point for population health researchers and is especially critical as the college attracts new faculty and develops its identity and footprint on the Lehigh campus.
College of Health Data Visualization (Viz) Lab. In the Viz Lab, research information can be visualized and output as graphics, aiding understanding and communication. It will be used by the College of Health and its collaborators to access vast quantities of population health data and will offer the tools to process and analyze this information. The lab will also have virtual reality and augmented reality capabilities, as well as a wall of monitors that can be used as individual screens or a panorama. This space will be ideal for a researcher who is working with highly configurable data and needs room to see and manipulate a lot of information; for example, an epidemiologist who is dealing with data sets from 30 locations across the globe.
Population Health Data (PHD) Warehouse. Here, investigators access protected and sensitive data for research purposes and scholarly use. The highly secure data warehouse enables researchers to link statistics on individual people with geographic identifiers, such as census data and neighborhood information, in order to get a more comprehensive picture of health determinants.
Café. Busy students and researchers looking for coffee or a healthy snack can make a quick stop or linger to enjoy seating that invites people to sit and stay for a while. A beautiful shaded patio is just outside.
Forum. With an expansive gathering space, double-height ceilings, a large screen, and moveable walls, the forum is the ideal location for hosting lectures, programs, receptions, and other events. Adjacent to the café and easily accessible from pedestrian-only Asa Drive, it is sure to become one of the most popular spots in this corner of campus. 
Level 2
Large Conference Room with Terrace. Situated at the southwest corner of the building, this large conference room will have floor-to-ceiling views outside, interior windows that overlook the forum, and a small terrace with seating. It can be easily accessed by the pedestrian bridge that connects with Whitaker
Lab. It offers seating for 20 people.
Large Conference Room. This conference room at the northwest corner of the building offers expansive views of North Bethlehem and seating for 30 people.
Exterior Spaces
Patio. The patio area, surrounded by a cluster of trees, offers visitors a peaceful, shaded outdoor recreation space. Adjacent to the café, it is the perfect place to meet a colleague or friend for a meal or relax with a book and a cup of coffee.
Bridge. This footbridge over Asa Drive connects the second level of the HST building to Whitaker Lab, creating a research neighborhood within Asa Packer Campus.
Please note: Renderings and spaces are subject to change throughout the design and construction process. The purpose of some spaces is yet to be determined and may shift over time as the building evolves to accommodate the needs of students and faculty.
LET'S GO!
By creating a space where interdisciplinary teams can flourish, Lehigh will advance its research culture, expand its capacity for research and funding, and set the stage for a great leap forward in impact and distinction.
Action is critical. The College of Health, just beginning to take shape, needs an exceptional place during its pivotal early years to help attract top faculty and create the space and facilities for the college's programs and research endeavors.
At the same time, Lehigh is increasing our undergraduate and graduate student population and adding 100 new faculty, with the goal of expanding our community, our intellectual strength, and our influence. We are also pursuing new models of discovery, including new Interdisciplinary Research Institutes, to align faculty around important challenges and spark impact and innovation. Health, Science, and Technology gives Lehigh the space and drives the culture we need to attain our objectives. 
There is no impact without action. Your support will make the difference.