Historic Spaces, New Visions
It's a Friday night in September, and the Clayton University Center at Packer Hall is ablaze with light. Students and visitors lounge in the Great Room, where good-natured competitors gather around a board game, sharing snacks from the marketplace-style food hall. In the lively pub, students and professors debate the documentary film they just saw with a visiting lecturer and alumni guests.
Outside, people gather around the fire pit and on the lawn to reflect and relax. As the hour grows late, undergraduate and graduate students continue to arrive from all corners of campus, attracted by the bustle of activity and opportunity — and the promise of food and friends waiting inside.
The Clayton University Center at Packer Hall is more than just a building: It is the heart of the Lehigh campus. With this renovation, we envision a continually active, vibrant Clayton University Center that will bring our whole community together. A building restored not only to its original grandeur, but reinvented to foster understanding and collaboration among students and equip them to navigate and lead in today's diverse society.
This new Clayton University Center will help transform the student experience and the culture of our campus. Please join us in bringing this vision to life.
Cultivating a Community
The Clayton University Center renovation will help create a richer and more vibrant Lehigh community by providing:
Updated facilities and amenities. The renovation will provide newer, more modern, and more efficient facilities for today's students. Enhancements include fresh dining spaces, additional recreational and work spaces, and amenities such as a convenience store and a pub.
A true hub for student life. From dedicated meeting rooms for student clubs to refreshed offices for student life and services, students, faculty, and staff will collaborate under one roof – together – for the first time.
Welcoming spaces to encourage growth and strengthen ties. As a central location where students will want to spend time, the Clayton University Center will foster opportunities for students to develop leadership skills, form lifelong bonds, and create their own home on campus.
Stronger Lehigh traditions. When you bring people together, you can unify them around shared experiences and common aspirations, strengthening culture and traditions. The new spaces in the Clayton University Center will allow students to more regularly gather for celebrations, concerts, dances, meetings, and more.
Signature Spaces
The new Clayton University Center at Packer Hall includes a number of signature spaces that will elevate and enhance the Lehigh student experience. Whether they're planning a club event, meeting up for dinner, or relaxing after a long day, students will come to the Clayton University Center to make connections, friends – and memories.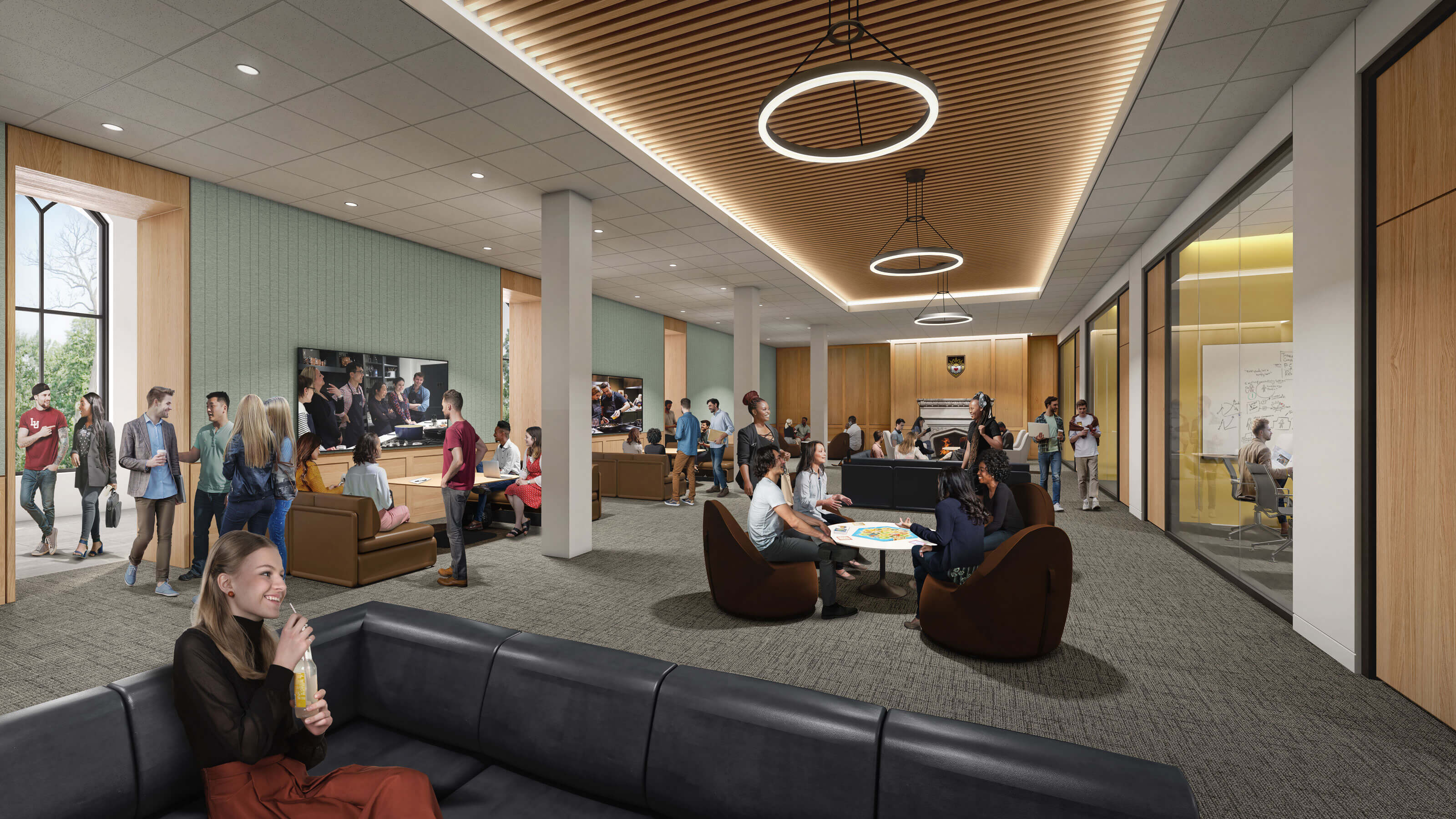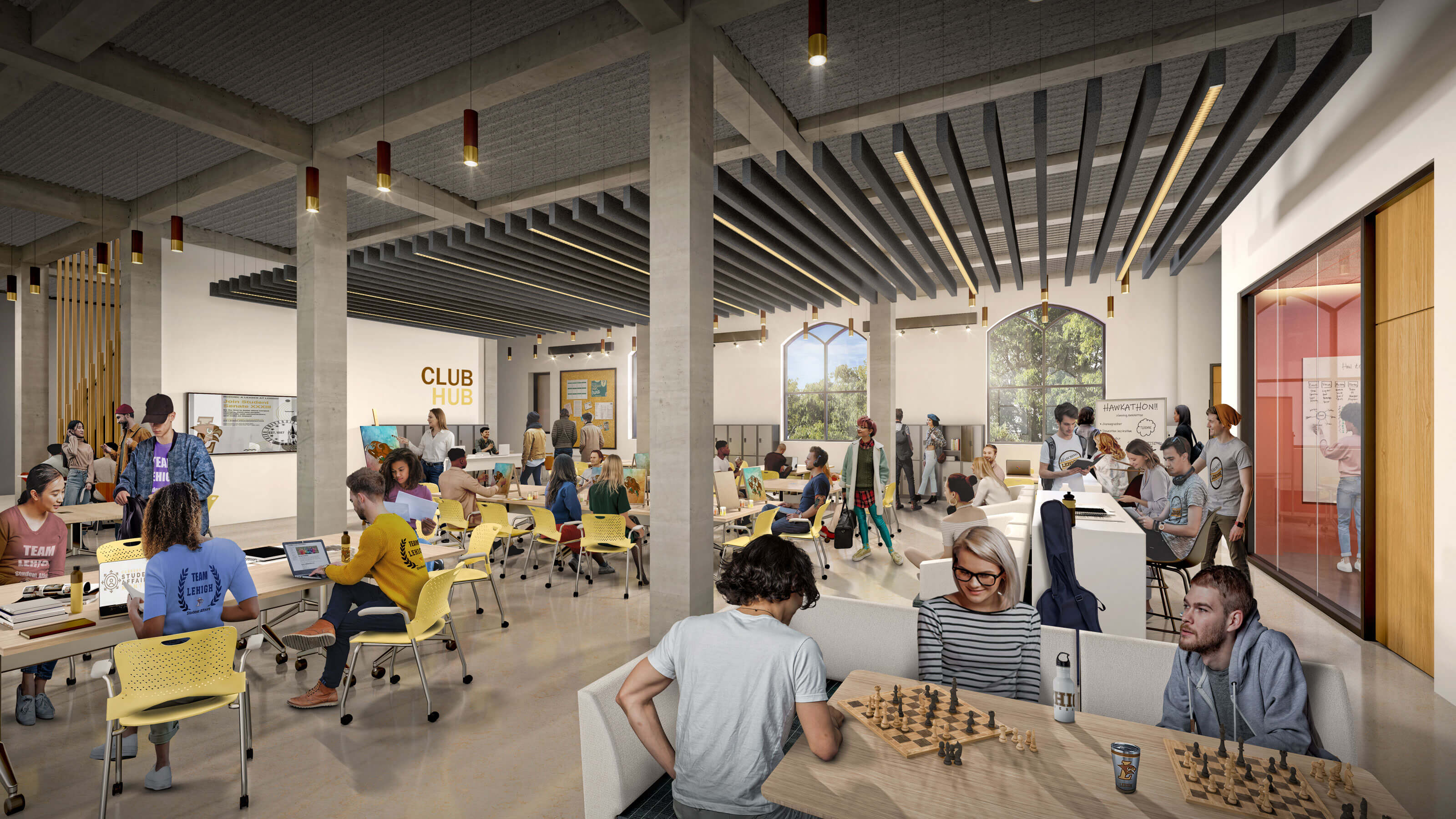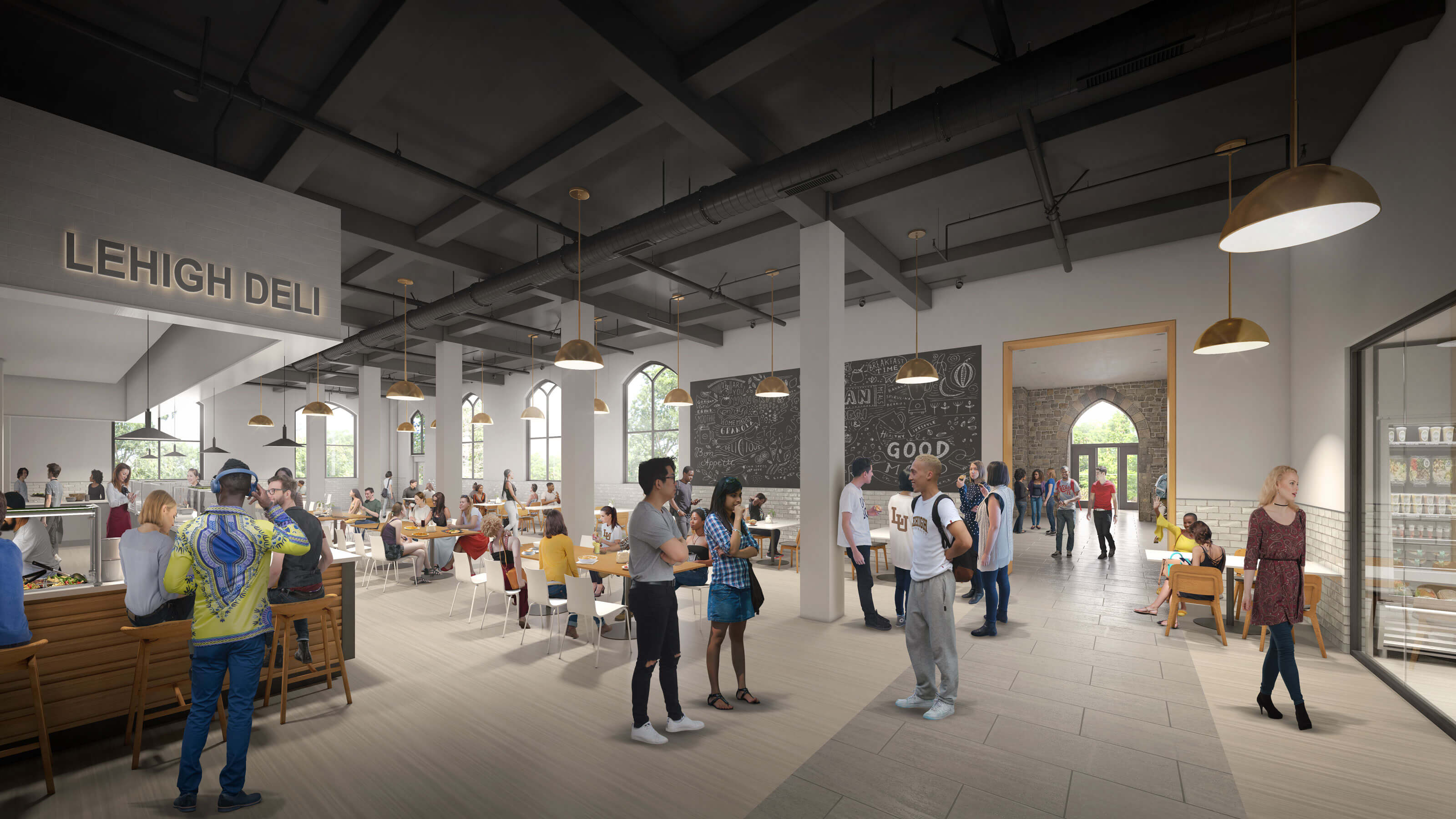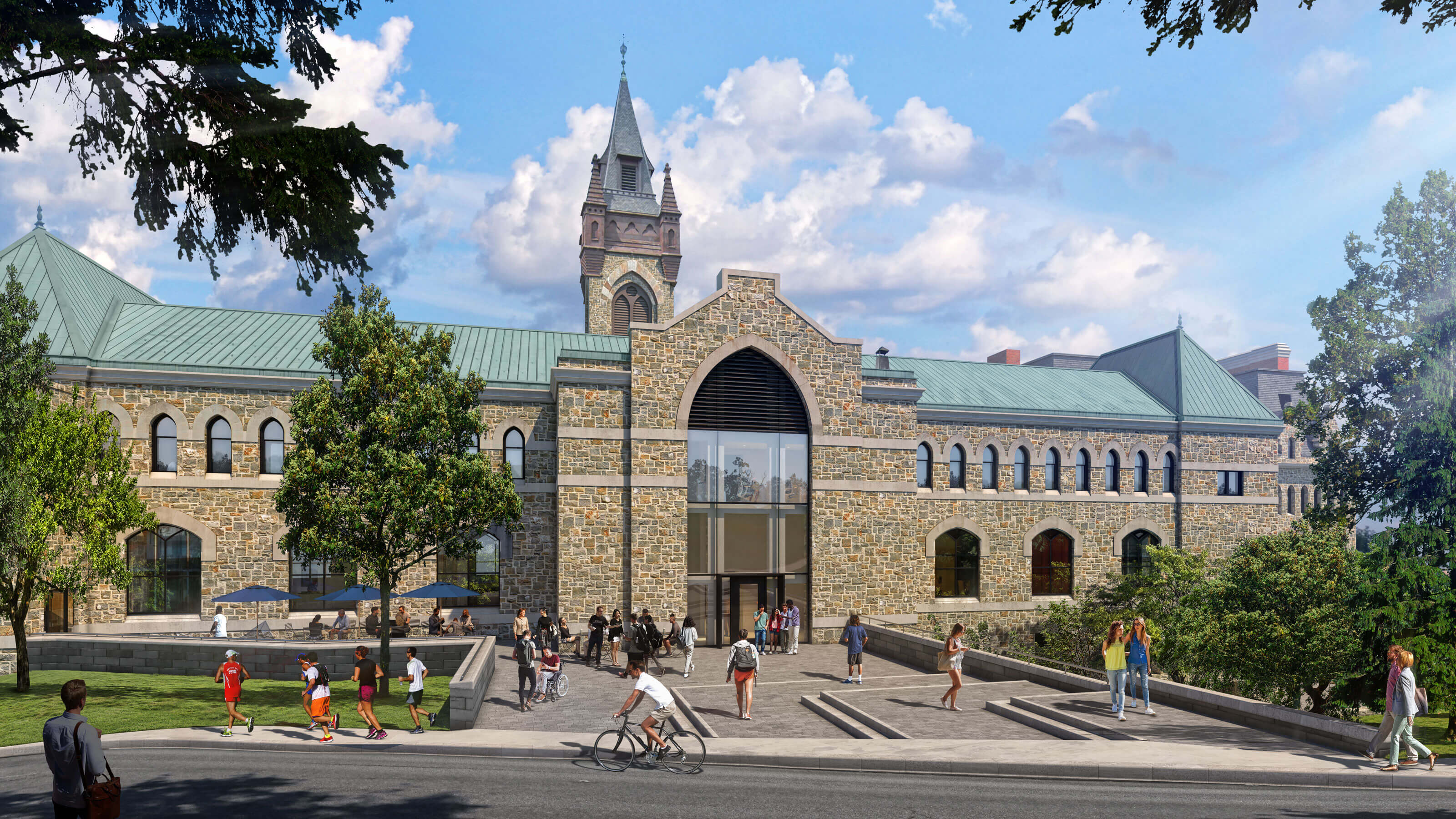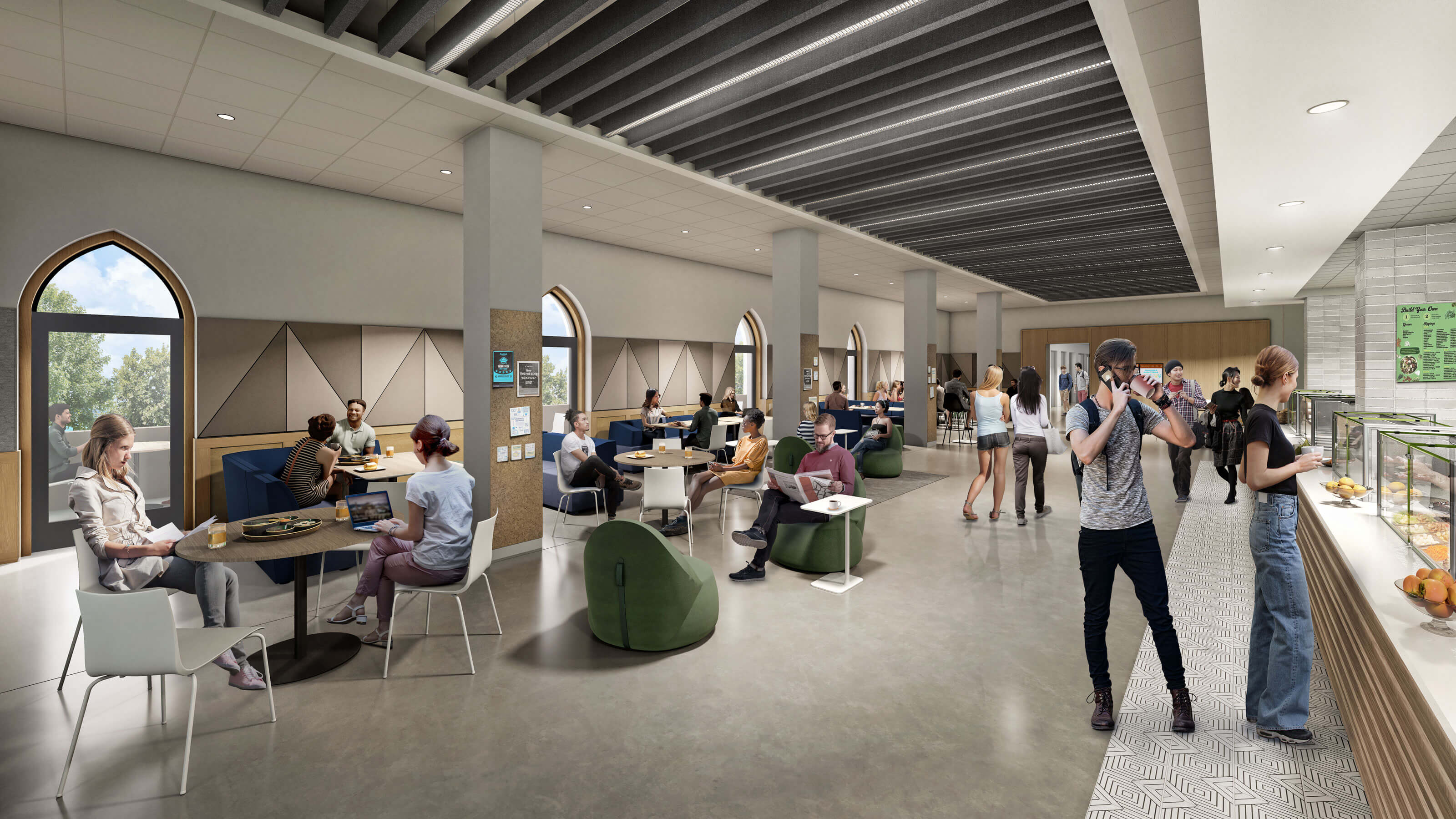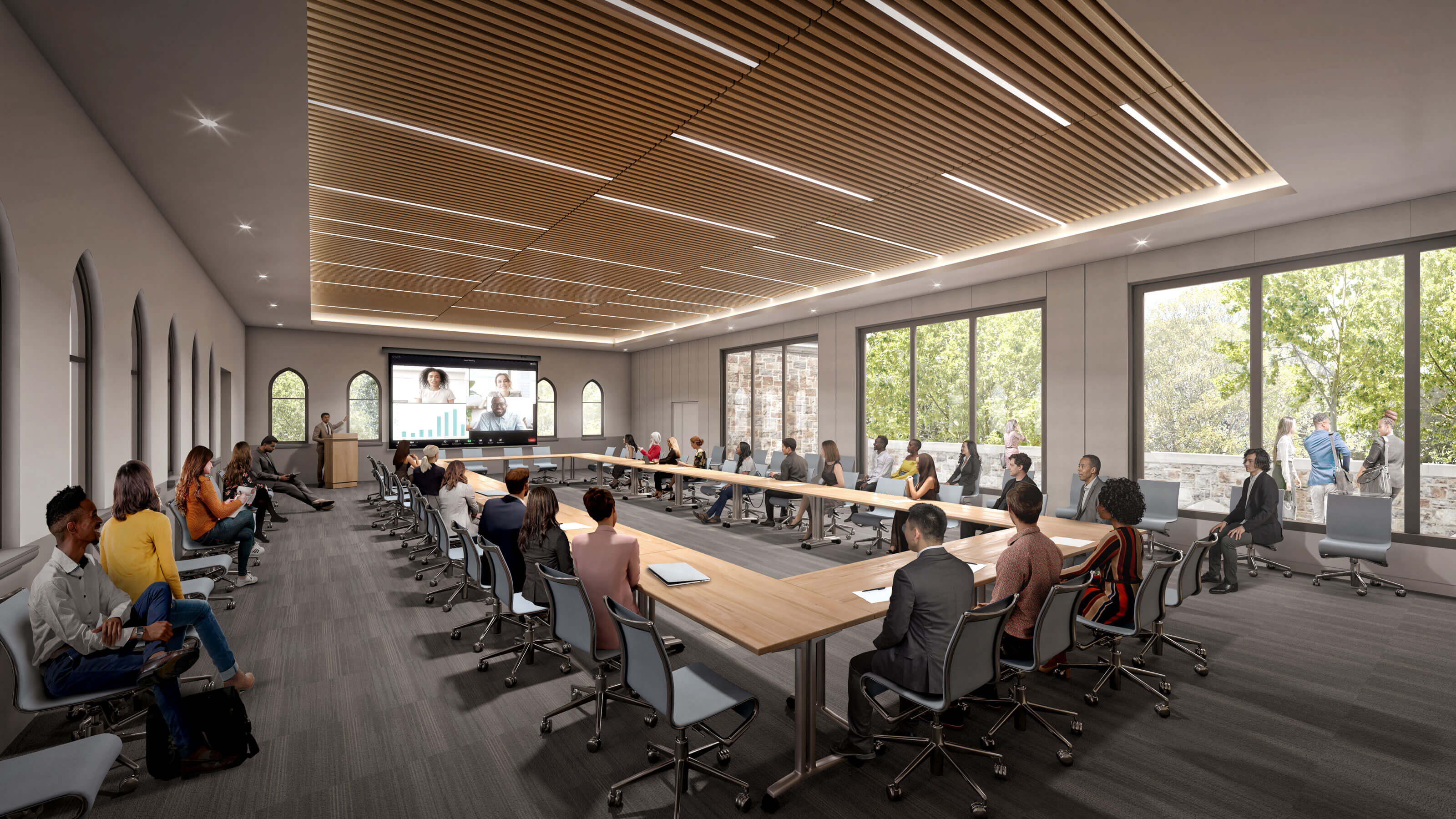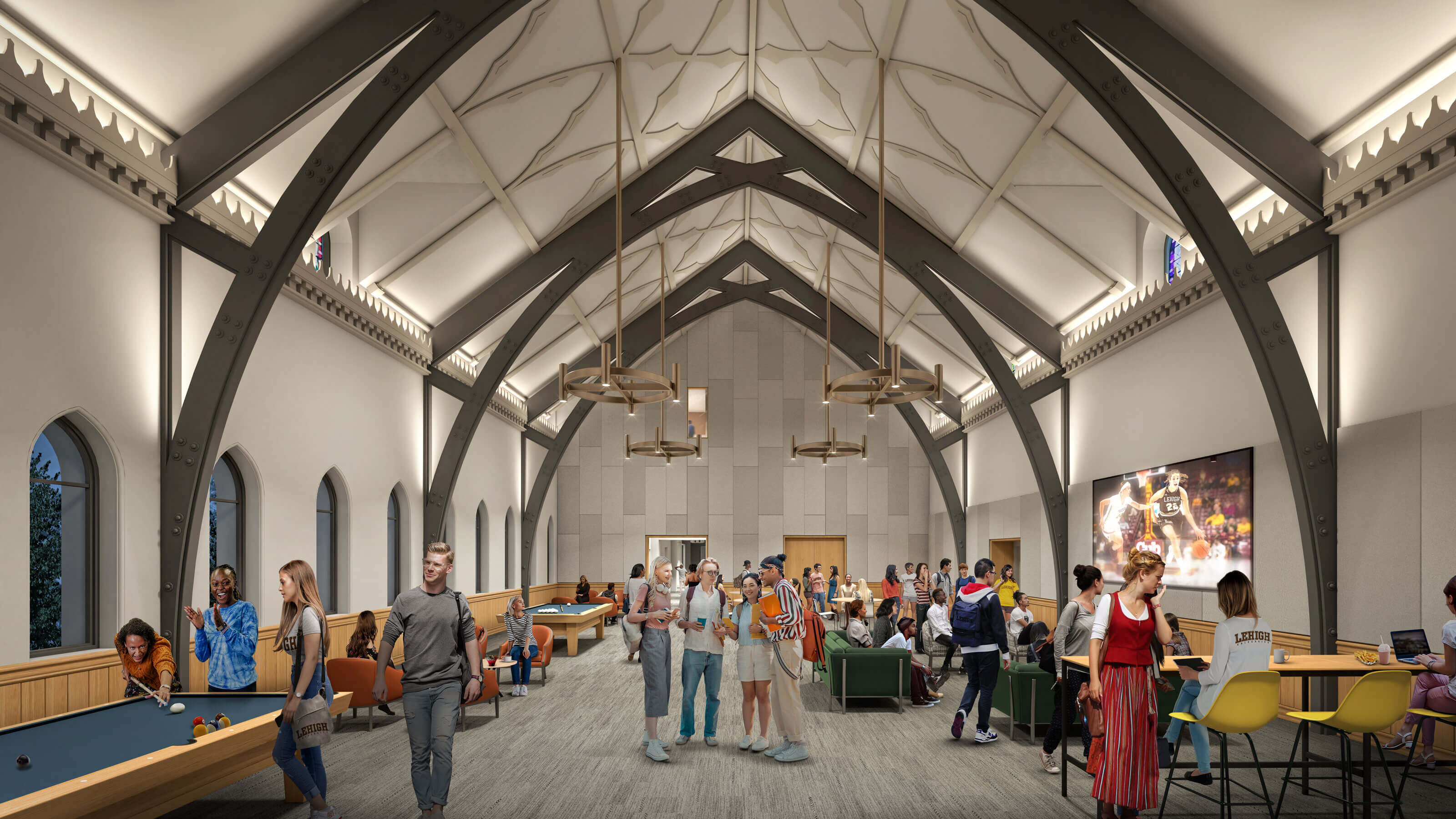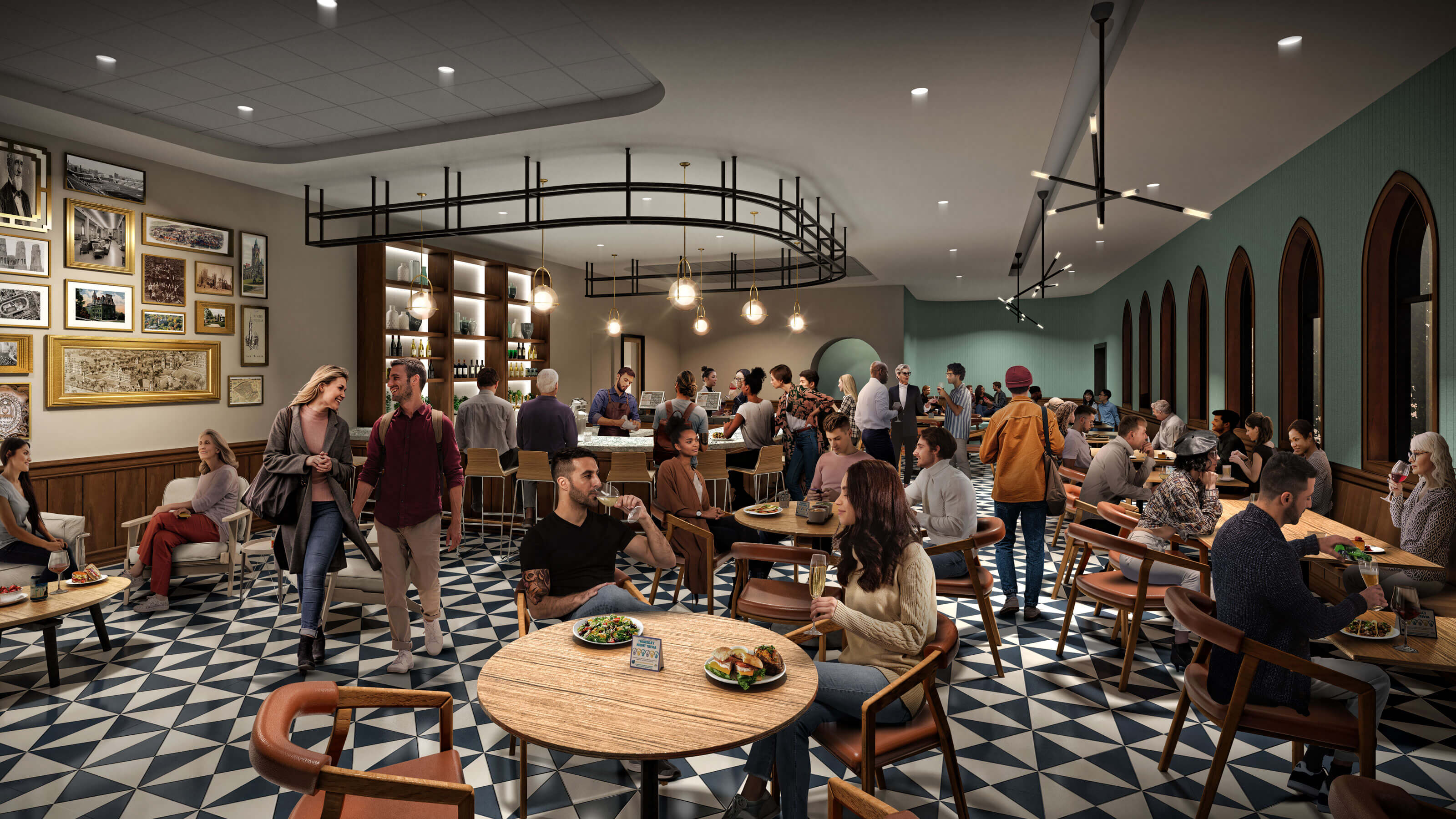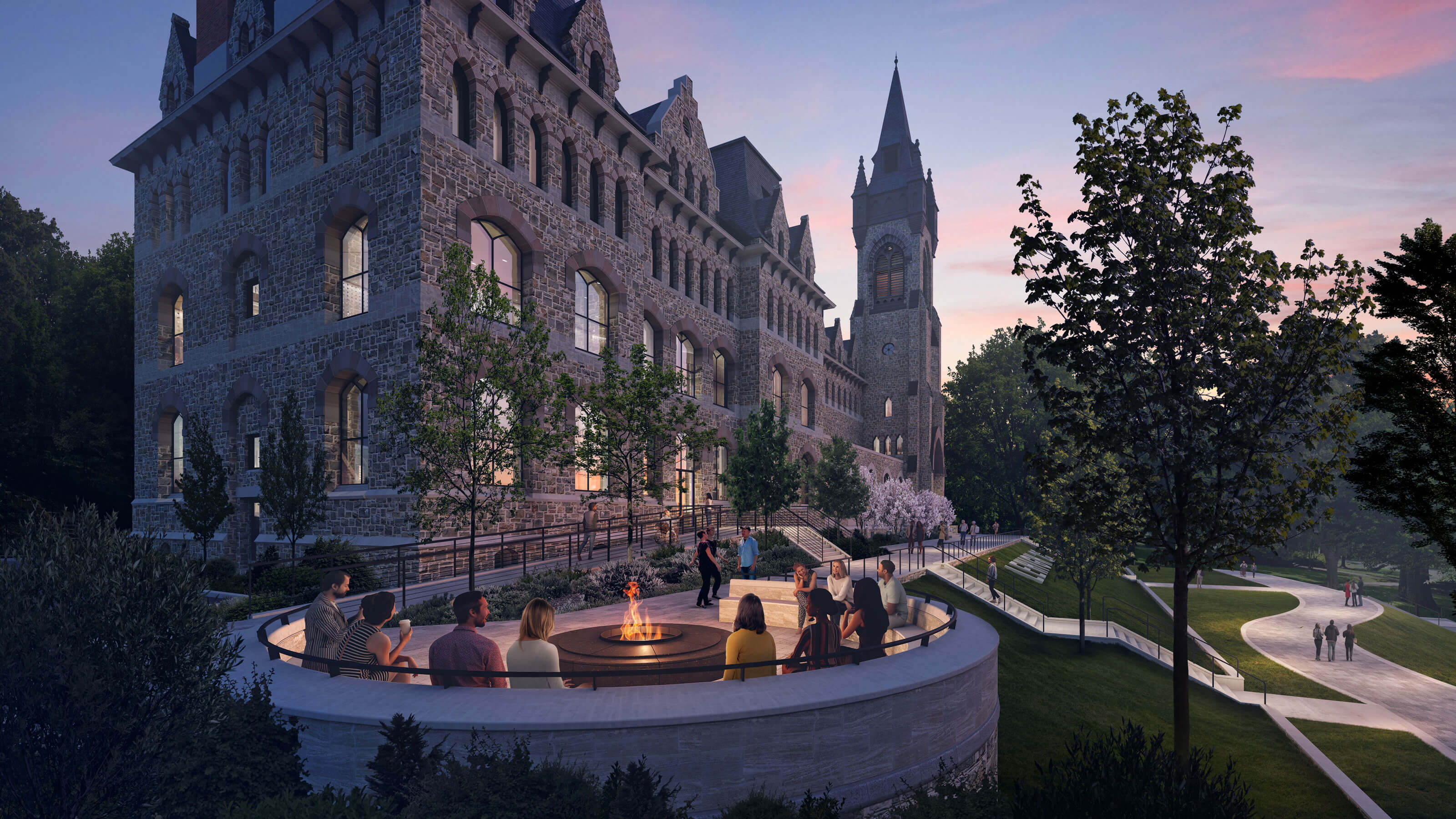 Lower Eatery
This first-level Lower Eatery will be a flexible, open space where all students, with or without a meal plan, can gather to share a meal, study, pick up essentials from the adjacent convenience store, or grab a coffee between classes.
Gallery
With windows facing onto the Clayton University Center front lawn, this newly renovated gallery and multi-functional space will offer beautiful views of campus and feature tall, stately doors that offer easy entrance to the Living Room.
Living Room
The vibrant Living Room is a central location where students can gather to study and socialize, anchored at the east end by one of the building's original fireplaces. Two smaller areas along the north end with seating, wall-mounted screens, and integrated technology will offer an ideal place for collaboration and group work, as will the five small meeting rooms along the south wall.
Fire Pit
This singular stone structure on the northwest side of the building will provide a unique gathering space for students to socialize. With tasteful semi-circular architecture and surrounding landscaping, the fire pit will be a new built-out addition off the front patio.
Club Hub
Lehigh has more than 200 student clubs and organizations on campus. The Club Hub will provide dedicated space for them to gather, plan and host events, and deepen student engagement. A single location where all clubs can reserve flexible space increases club access and visibility, unifies student activity across campus, and situates them within the same building as student life support staff.
The Crossing
This open, multi-use space will be a comfortable place for students to gather for meals, small group study, or to rest and regroup between classes.
Upper Eatery
This open, airy retail food marketplace will offer fast and fresh à la carte dining options.
South Entry Terrace and Porch
This beautiful outdoor space will be a destination for students and student groups to dine, socialize, and study. Located in close proximity to both the Upper Eatery and Club Hub, the South Terrace and Porch provides an upgraded south entrance, connecting the upper and lower campuses.
Boardroom
The Boardroom is ideal for executive meetings, conferences, and large business gatherings. Natural light from the adjacent North Terrace will enhance and brighten the room when desired and light-control roller-shades will block it when not.
Great Room
This renovation will reclaim the original Victorian-style design and reopen the large, Gothic windows to lighten and brighten this uniquely Lehigh room. Modern materials and colors will be incorporated while still honoring the room's history and character, including its signature trusses. Students will be able to relax and have fun in this designated lounging space, with two pool tables, a wall-mounted flatscreen, and a temporary stage for entertainment.
Pub
A truly one-of-a-kind space on campus, this retail dining experience will offer a full menu to students and guests from breakfast through dinner. Inspired by European bistros as well as more traditional taverns, students and our entire community can gather to enjoy a drink or meal.
Share in the Vision
From Lehigh's earliest days, when it was known as Packer Hall, the University Center shaped the student experience, offering dining halls, classrooms, offices, galleries, and even a chapel. Since then, the student body has continued to grow, and the needs of students have changed.
With this renovation, the Clayton University Center at Packer Hall will reshape the student experience and enhance our campus culture. Join us as we bring this vision of the new Clayton University Center to life. 
To learn more about how you can be a part of this important moment in Lehigh's story, contact the Office of Development and Alumni Relations at (610) 758-6748 or GOcampaign@lehigh.edu.
To learn more about the current project status of the Clayton University Center and get operational updates, visit our facilities update page.