With a $5 million gift to elevate the student experience, Julie '20P '21P and Jordan Hitch '88 '20P '21P are providing for future generations of Lehigh scholars by being the first to support the New Residential Houses project—a dynamic new cluster of six residences being built west of the Clayton University Center at Packer Hall. Hitch House and two other houses will be available to students starting Fall 2020.

"Lehigh is all about the student experience—that was key to my time here," said Jordan, a Lehigh University Board of Trustees member and co-chair of GO: The Campaign for Lehigh. "The university is experiencing an exciting era of growth and so now is the time for alumni to get engaged and support its initiatives. As Lehigh parents, Julie and I want our engagement to strengthen the way students live and learn."

Gone are the days when education was relegated to the classroom, the lab, or the library. The New Residential Houses will not only provide students with state-of-the-art living spaces but also foster a vibrant community by integrating a new eatery, fitness center, and a variety of multi-use spaces for the entire campus community to enjoy.
Improving access and opportunity for students and increasing undergraduate enrollment by 1,000 over the next decade are top priorities set forth by the Path to Prominence—Lehigh's vision for the future which will be made possible by GO: The Campaign for Lehigh.  

"Jordan and Julie's leadership commitment to advancing the university is to be commended," said President John D. Simon '19P. "The expansion of our student body will bring new dynamism and greater diversity to campus. Hitch House will be an integrated living and learning space and will inspire community, creativity, and collaboration. We thank them for leading by example."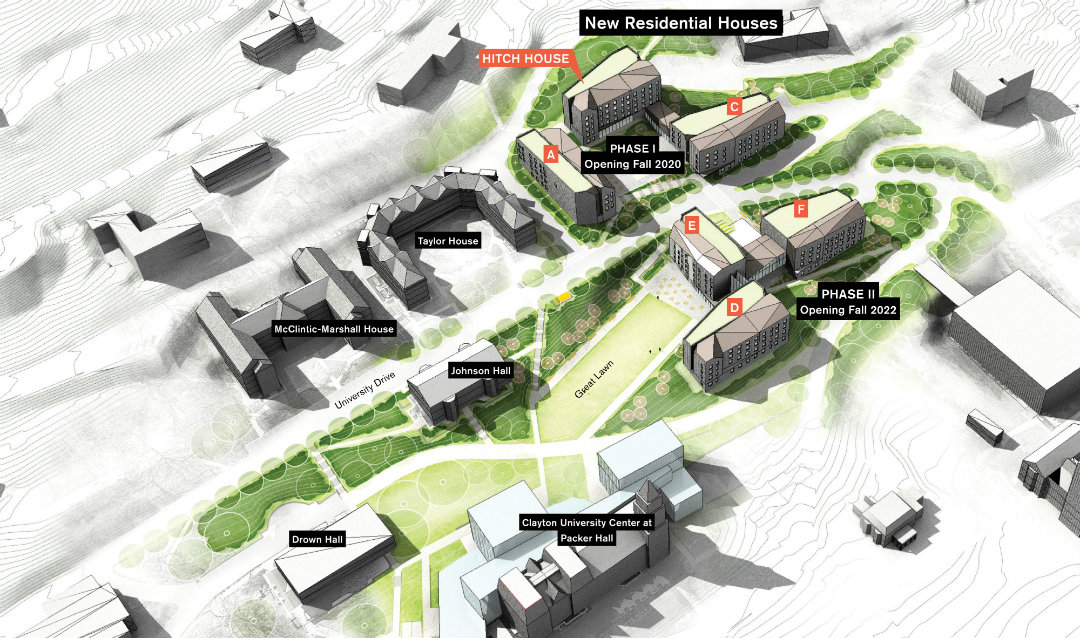 When looking at undergraduate schools, Jordan knew he wanted to pursue a career in business but majored in mechanical engineering to set himself apart. He applied early decision to Lehigh and said the engineering education he received taught him to solve problems and approach things analytically, skills that served him well in his business career.
After earning a Master of Business Administration at the University of Chicago, Jordan was a strategic consultant for the global management consulting firm Bain & Company and then joined private equity firm Bain Capital. He retired from Bain Capital as a managing director and is now a private investor.
An active alumnus, Jordan joined the Board of Trustees in 2014, is a member of the campus planning and operations and investment committees, and is chair of the finance committee. As a member of the Lehigh Wall Street Council, Lehigh's alumni business affinity group, and a member of Lehigh's Parents' Council with Julie, he encourages all Lehigh graduates to become engaged with their alma mater. Jordan and Julie's philanthropy have previously supported scholarship and financial aid, the Africana Studies program, and the Lehigh Fund.
"As I got older, I got more involved. It is very rewarding and brings back great memories. It makes you appreciate all that Lehigh did for you," said Jordan. "Now, seeing it through the eyes of our children, Julie and I are committed to helping Lehigh be the university that it was for me." Jordan and Julie also have two daughters, Emma and Lily.
"Our boys love Lehigh. They are thriving both academically and socially, and take advantage of all that Lehigh has to offer. Charlie and Ty are maturing into the most wonderful and thoughtful young men. As much as I would like to take full credit for that, I really feel strongly that Lehigh has played a huge role in that process," said Julie, who is thrilled that their sons echo their father's affection for the university. "We are a Lehigh family and are so proud to be."
Fellow Board of Trustees member and campaign co-chair James Maida '85 '17P '19P applauds Jordan and Julie for enriching the Lehigh student experience.
"Their dedication will forever contribute to the opportunities available to young people while they receive an exceptional Lehigh education," said Maida.
 
—Story by Dawn Thren '21P