$5 Million Gift to Support New Residential Houses
Maida gift will provide for an expanding Lehigh student body.
James Maida '85 '17P '19P can't recall when he attended his first Lehigh-Laf football game with his parents, Robert '57 and Elaine Maida '83P '85P '86P '17GP '19GP, but he knew it was before he was five years old. Part of three generations of Lehigh alumni, Maida is filled with pride and memories for the university that continues to make a lasting mark on his family. Maida and his wife, Sharon '17P '19P, have deeply supported Lehigh and are continuing their family's legacy with a $5 million commitment to the New Residential Houses.
"It is not about giving back to Lehigh. It is about giving it forward to the next generation of students," said James, co-chair of GO: The Campaign for Lehigh and a Lehigh University Board of Trustees member who chairs the Development and Alumni Relations Committee. "I am reflecting on what others did before us and what we now have the obligation and honor to do."
The Maidas are providing for future Lehigh scholars with a gift aimed to elevate the student living and learning experience. A dynamic new cluster of six residences are being built in two phases west of the Clayton University Center at Packer Hall. In recognition for their generosity, one of the three houses in Phase I will be named Maida House. Maida House, Hitch House, and a third residence hall not yet named will be available to students starting Fall 2020. Phase II is scheduled to open in Fall 2022.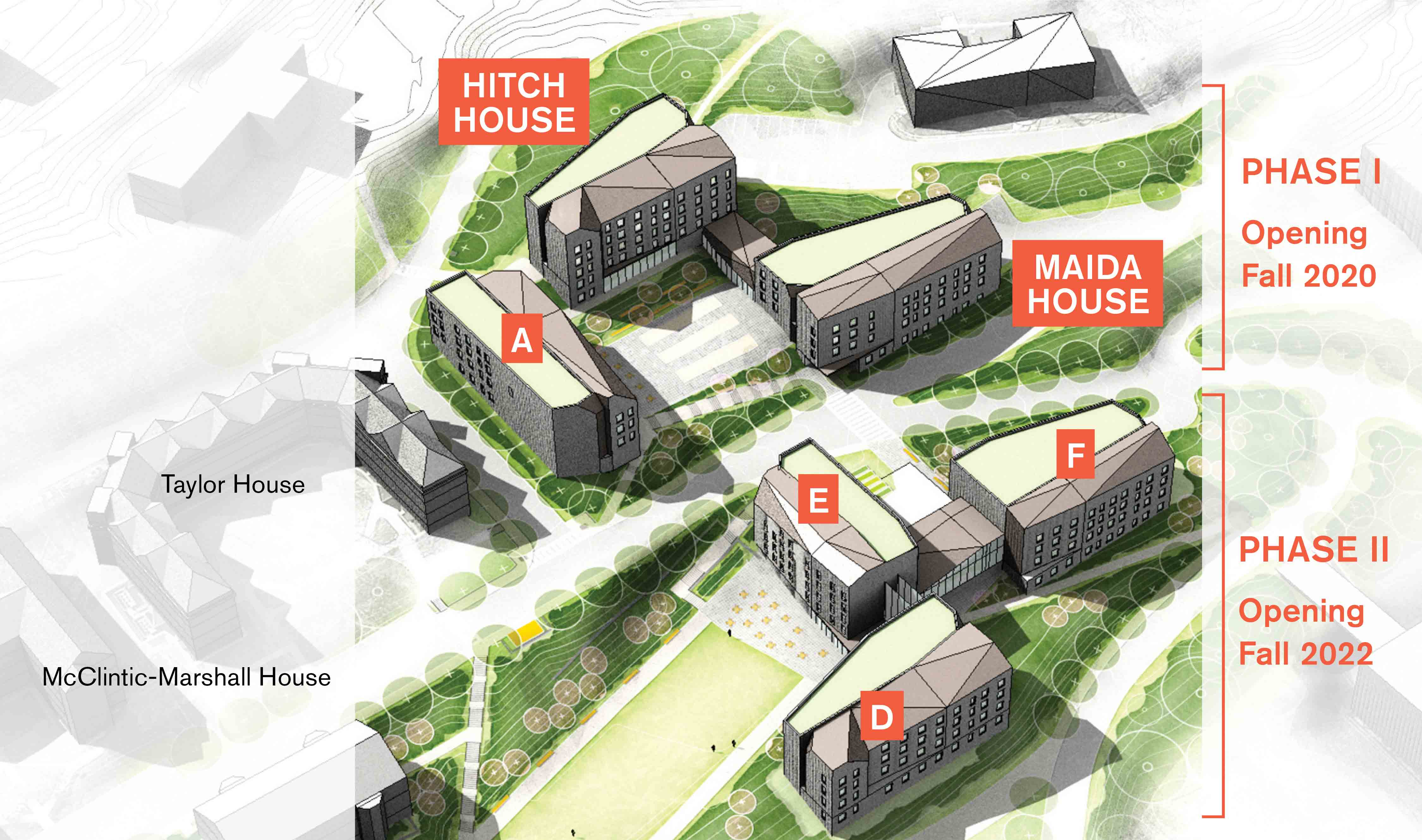 "James and Sharon Maida are shining examples of those who uphold Lehigh in their life through their dedication and their actions. They not only provide for Lehigh personally, but James is a true advocate in inspiring others to do the same," said President John D. Simon '19P. "We thank them for answering the call to fulfill an important need on campus – to provide housing for an expanded student body."
Increasing undergraduate enrollment by 1,000 during the next decade and providing the resources, support, and facilities students need to excel are top priorities defined by the university's Path to Prominence plan. This vision for Lehigh's future is being made possible by GO: The Campaign for Lehigh, the ambitious $1 billion-plus fundraising and engagement campaign that launched in October.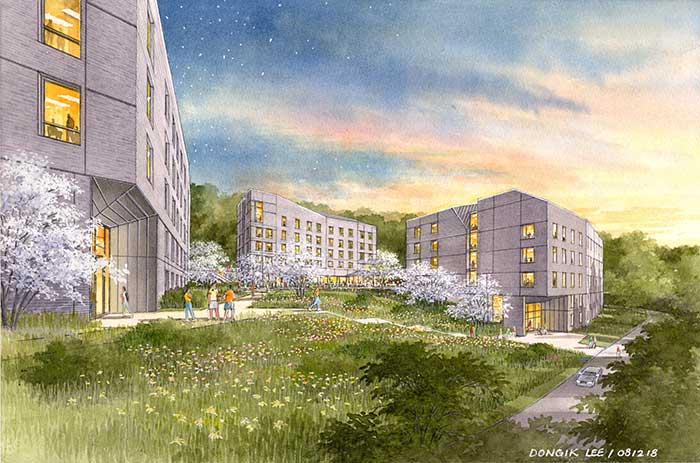 The idea of state-of-the art student housing that nurtures a community spirit is exciting to the Maidas. Listening to the college experiences of their children, Alexis '19, Lauren '17, Lindsay, and Nicholas, they know that dorm life plays an important role in student success and is a place to launch from and return to.
"When you are at class or when you are working late at night, you want to come back to a place where you feel at home," said Sharon, founder and CEO, Maida Mobility, a private practice specializing in children with visual impairments. "Having that kind of safe and welcoming environment is going to add to your success as much as anything else."
Thrilled that Lehigh was the right choice for two of their children, James recalled his own experience as a computer science engineering (CSE) major and said that Lehigh taught him the problem-solving and real-life skills he needed to figure things out on his own.
"That is the true value of a Lehigh education. Not the classes … not the major … but in every part of the university — engineering, business, arts and sciences, education, and soon health — you are taught how to solve problems that you have never seen before," said James who also earned a juris doctorate from Rutgers Law School in 1990.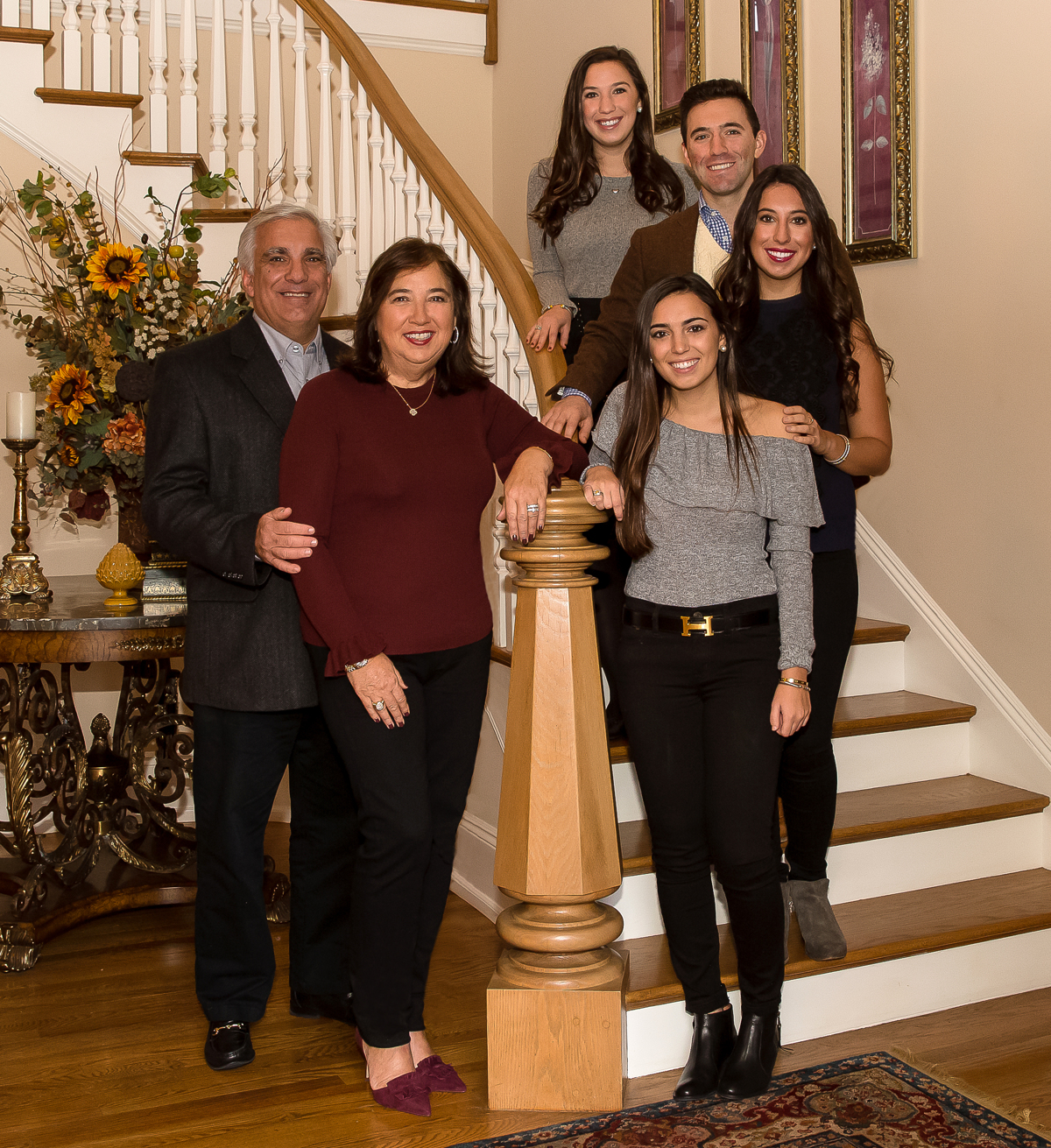 James chose the university not because his father and brother attended before him, but because Lehigh technology was well ahead of the other schools that he visited, including Duke, Brown, and Cornell. He credits CSE professor and then department chair Edwin Kay as being a mentor who was his single biggest influence while at Lehigh and when he co-founded his business, Gaming Laboratories International, in 1987. The company now has more than 1,300 employees throughout six continents and provides a wide range of services to regulators, suppliers, and operators in the gaming industry.
The Maidas, who married in Packer Memorial Church more than three decades ago, are long-standing benefactors to Lehigh and are members of Leadership Plaza, the university's top giving society. They have provided for the Lehigh Fund and launched numerous initiatives to benefit students, including a scholarship fund and an international internship fund. They also helped transform historic Williams Hall into the university's global hub with the Sharon O. Maida and James R. Maida Family Terrace.
Regarding their recent gift, Sharon said, "When you go and see a campus, yes, you are drawn to it by its great reputation. You are drawn to it by the program of study that matches your interest, but parents are also looking and thinking 'My child is going away, and I want to feel good about where they are living. I want them to be somewhere where they feel safe and inspired.'"

—Dawn Thren '21P
GO: The Campaign for Lehigh
Our community is going all in on GO: The Campaign for Lehigh — an ambitious $1 billion-plus fundraising and engagement initiative that is strengthening our efforts to attract the best students, develop new facilities and programs, and support the research of our renowned faculty.
For more information on how you can support the student experience, please contact the Development and Alumni Relations Office at (610) 758-6748 or GOcampaign@lehigh.edu.