Knowing from experience that there are many valuable ways to advance Lehigh, Dennis Singleton '66 and his wife, Charlot, chose to support the New Residential Houses project with a $5 million gift to help strengthen and enhance the on-campus living community. Long-standing advocates of education, the Singletons are supporting Lehigh's Path to Prominence plan to expand the student body and bring new dynamism to campus. The university's growth is fueled by GO: The Campaign for Lehigh, a $1 billion-plus fundraising and engagement initiative.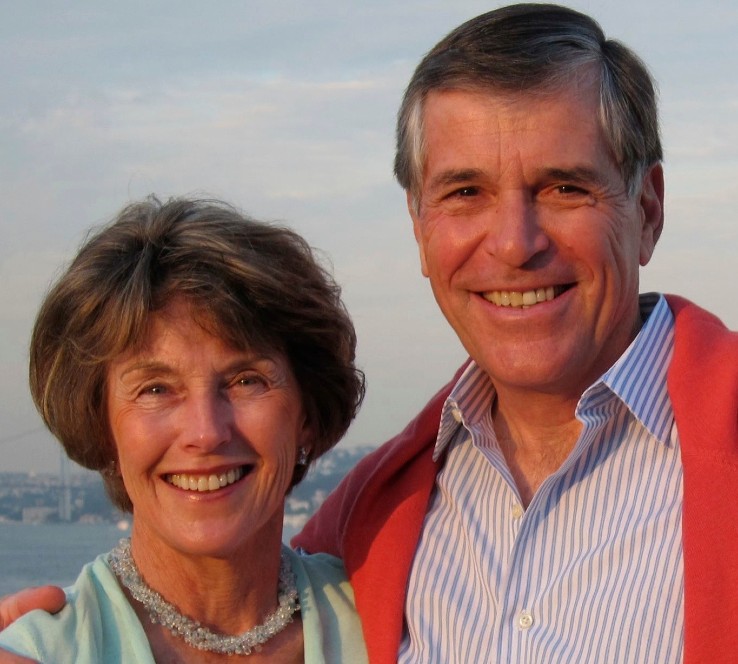 "Admissions trends show that in the next 15 years there will be fewer college-bound students from the East Coast and more from the West and South," said Dennis, an emeritus member of the Board of Trustees. "To have a more geographically diverse student body is a university mandate. Providing an on-campus residence experience that is welcoming to all students supports building a sense of community and purpose."
In recognition of their gift, the third residence hall in the south cluster on University Drive will be named Singleton House, which is on target to be available to students starting Fall 2020. Construction on three more residence houses in Phase II of the New Residential Houses project will begin after the completion of Phase I. The six new facilities directly support the university's goal to increase undergraduate enrollment by 1,000 over the next decade and provide the resources, support, and facilities the students need to excel.
"We are truly grateful for Charlot and Dennis' leadership that fosters a vibrant and accepting Lehigh community," said Kevin Clayton '84 '13P, chair of the Lehigh University Board of Trustees. "It is monumental that the Singletons have named the final building in Phase I. Charlot and Dennis' generosity is a driving force in the momentum of the campaign and its impact on Lehigh's mission."
Adjacent to Taylor House along University Drive, Singleton House will be home to 120 students and will include three- and four-person semi-suites, two kitchen and dining areas, and small-group lounges. The western-facing side of the building will frame the central courtyard of the south cluster of New Residential Houses with Hitch House and Maida House.
"I am a big believer in on-campus housing. You spend your first night not in a classroom, but in some kind of residence facility. It becomes a very important part of your life," said Dennis, who lived on the fourth floor of Drinker House during his first year at Lehigh. He added that he was inspired to name Singleton House because of the leadership shown by Board of Trustees members James Maida '85 '17P '19P and Jordan Hitch '88 '20P '21P, campaign co-chairs.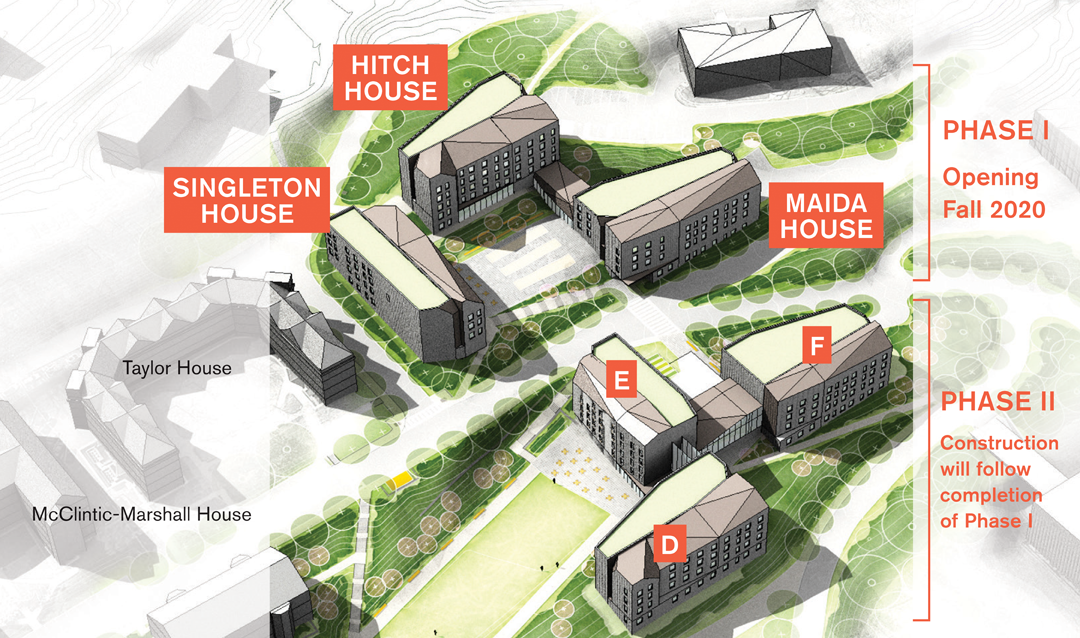 "Two fellow trustees whom I respect very much each named a house, and I thought I would join them," said Dennis, who earned his Lehigh degree in industrial engineering and his M.B.A. at Harvard Business School.
Dennis' successful career spans more than 50 years in identifying and analyzing strategic portfolio real estate acquisitions and operating opportunities. He began his profession at Trammell Crow Company, a real estate development, investment, and property management company, before co-founding Spieker Properties in 1993, a public real estate investment trust company. He retired as vice chair and director in 2001 and founded Singleton Investments, a real estate holding company. His professional affiliations include serving as director and chairman of Digital Realty Trust and chairman and director of the Glaucoma Research Foundation.
Based in California, Dennis has been a proponent in helping Lehigh develop a bigger presence on the West Coast. Through alumni and corporate engagement, he has helped implement student internships, programming such as LehighSiliconValley, and career opportunities in the Bay Area. Since 1998, he has served in many capacities as a member of the Lehigh University Board of Trustees including providing his leadership on the academic affairs, executive, development, and finance committees. In 2016, Dennis received the Eugene G. Grace Award, which recognizes distinguished service to Lehigh for encouraging support to the university.
"Lehigh University continues to grow and thrive because of the philanthropy and volunteerism of dedicated alumni and friends," said President John D. Simon '19P. "Charlot and Dennis have led by example in supporting many facets of the Lehigh experience."
Charlot and Dennis' philanthropy includes establishing an endowed faculty chair position in corporate governance and an endowed scholarship fund. They have also provided for university global initiatives, the Athletics Partnership, the Lehigh Fund, institutional marketing efforts, and Lehigh student programs affiliated with the Nasdaq Entrepreneurial Center in San Francisco. They are members of Lehigh's top giving societies and were inducted into Leadership Plaza in 2004. Singleton House deepens their legacy to Lehigh and will benefit students for generations.
"Students need a place to anchor outside of their academic activities. That place is a residential environment that provides overall wellbeing as they mature in living with and relating to their peers. A strong residential setting enriches and strengthens the overall Lehigh experience," said Charlot, an educator in the Menlo Park City School District and board of trustees member at Lawrence University, her alma mater. 
"We look at supporting education as an investment that benefits future students and future generations," said Dennis. "Plus, by contributing now, we get to see the results and the good that it does."
Story by Dawn Thren '21P